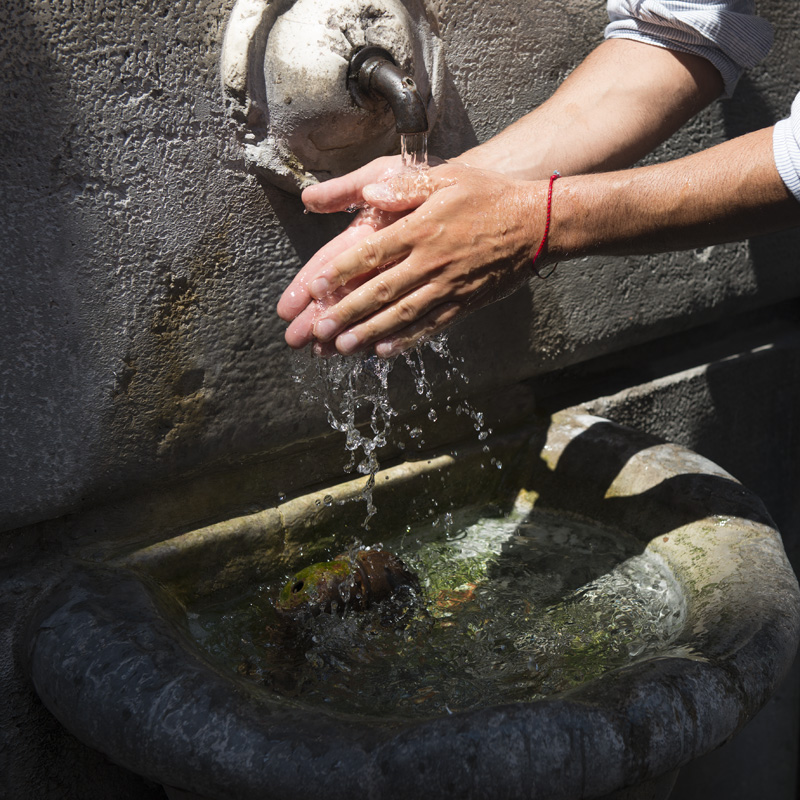 ---
Roman Basins I and II (Remake after Jeff Wall) *
Julio 2015
2 Cajas de luz
42cm x42cmx10cm
Impresión con tintas pigmentadas en papel Backlite
32cmx32cm

En verano del 2015, aproveché un viaje a Roma para hacer un ejercicio práctico de reflexión sobre la fotografía contemporánea. Tomé como referencia "Basin in Rome I - II", dos obras menos conocidas del artista y teórico Jeff Wall (Vancouver 1946) pionero en la fotografía conceptual.

Este proceso me ha permitido recorrer la ciudad con otros ojos buscando la poética de lo cotidiano en estas fuentes de agua potable, las fontanella, representativas de la Roma contemporánea y su historia. Viajando en el tiempo con esa luz contrastada y presente que tanto inspiró a Velázquez.

Es otra manera de mirar. La velocidad del agua que mana ininterrumpidamente del caño nos evoca al paso del tiempo en una Roma tan antigua. Y después, el gesto de lavarse las manos, sin duda un gesto sencillo que satisface una necesidad humana básica en un retorno al origen mítico y pagano, un gesto que se ha repetido en ese mismo lugar seguramente durante siglos, y con la representación de la fotografía puede reconectarnos.

Se mezclan el azar y lo evidente, la ficción y lo real, la búsqueda y lo encontrado, el original y la copia, la tradición y el progreso, lo claro y lo oscuro.

Lo acompaña un fotolibro "Why Basin in Rome I and II?" ((44 páginas - 1ª edición de 50 ejemplares - 2018). Cada ejemplar tiene en la cubierta una copia única en papel fotográfico, a tamaño 15cm x 10cm.)


*Basin: (ˈbeɪs(ə)n) n 1.3 (of fountain) (feminine) pila (masculine) pilón.

In the summer of 2015, I took a trip to Rome where I worked out a practical reflection exercise on contemporary photography. I took as reference "Basin in Rome I - II", two lesser known works of the artist and theorist Jeff Wall (Vancouver 1946) pioneer in conceptual photography.

This process has allowed me to travel the city with other eyes looking for the poetics of everyday life in these sources of drinking water, the fontanella, representative of contemporary Rome and its history. Traveling in time with that contrasted and present light that so inspired Velázquez.

It is another way of looking. The speed of the water that flows uninterruptedly from the pipe reminds us of the passage of time in such an ancient Rome. And afterwards, the gesture of washing one's hands, without a doubt a simple gesture that satisfies a basic human need in a return to the mythical and pagan origin, a gesture that has been repeated in that same place for centuries, and with the representation of the photography can reconnect us.

They mix chance and the obvious, fiction and reality, search and found, original and copy, tradition and progress, light and dark.

It is accompanied by a photobook "Why Basin in Rome I and II?" (44 pages_1st edition of 50 copies_ 2018). Each copy has on the cover a unique image on photographic paper, size 15cm x 10cm.

---
Video



Why Basin in Rome I and II? from MARIA PRIMO on Vimeo.




---
Order the photobook here